Posts for: January, 2017
By Designing Smiles By Dr. Diaz
January 18, 2017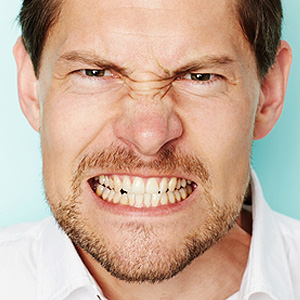 Your teeth naturally wear as you age, but you may be making it worse if you grind your teeth.
Teeth grinding is a behavior that causes the teeth to gnash, grind or clench against each other generating forces greater than those produced from normal biting. These forces often result in tooth wear that cause not only functional problems but result in a more aged appearance. Grinding occurs while a person is awake, but most often episodes occur while asleep at night.
Teeth grinding is quite common in children, but not usually of great concern since most grow out of it. There's even a school of thought that teeth grinding might even help readjust an uneven bite.
Among adults, though, other factors seem to contribute to teeth grinding. Many researchers believe nighttime grinding occurs as a person passes through different sleep phases including deep REM (Rapid Eye Movement) sleep. It may also have a connection with chronic snoring.
Certain medications seem to contribute to teeth grinding, particularly psychoactive drugs like amphetamines. Nicotine falls in this category, which could be why tobacco users report twice the incidence of the habit compared to non-users. Teeth grinding is also connected to another fact of modern life: stress. People who grind their teeth tend to have higher levels of anxiety, hostility or depression.
Because there are multiple triggers, there are many treatment approaches. Whatever course we take, our aim is to eliminate or minimize those factors that contribute to your habit. For example, we can create a custom mouth guard for night wear to prevent the teeth from making solid contact and thus reduce the biting pressure.
Perhaps the most important thing is to control or reduce stress. This is particularly helpful at night to prepare you for restful sleep by changing some of your behaviors. We also encourage investigating other stress therapies like biofeedback, meditation or group therapy.
Whatever the means, bringing teeth grinding under control not only reduces problems now, but could also help prevent abnormal teeth wearing and future health issues down the road.
If you would like more information on causes and treatments for teeth grinding, please contact us or schedule an appointment for a consultation. You can also learn more about this topic by reading the Dear Doctor magazine article "Stress & Tooth Habits."
By Designing Smiles By Dr. Diaz
January 03, 2017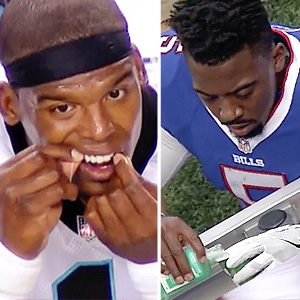 Everyone knows that in the game of football, quarterbacks are looked up to as team leaders. That's why we're so pleased to see some NFL QB's setting great examples of… wait for it… excellent oral hygiene.
First, at the 2016 season opener against the Broncos, Cam Newton of the Carolina Panthers was spotted on the bench; in his hands was a strand of dental floss. In between plays, the 2105 MVP was observed giving his hard-to-reach tooth surfaces a good cleaning with the floss.
Later, Buffalo Bills QB Tyrod Taylor was seen on the sideline of a game against the 49ers — with a bottle of mouthwash. Taylor took a swig, swished it around his mouth for a minute, and spit it out. Was he trying to make his breath fresher in the huddle when he called out plays?
Maybe… but in fact, a good mouthrinse can be much more than a short-lived breath freshener.
Cosmetic rinses can leave your breath with a minty taste or pleasant smell — but the sensation is only temporary. And while there's nothing wrong with having good-smelling breath, using a cosmetic mouthwash doesn't improve your oral hygiene — in fact, it can actually mask odors that may indicate a problem, such as tooth decay or gum disease.
Using a therapeutic mouthrinse, however, can actually enhance your oral health. Many commonly available therapeutic rinses contain anti-cariogenic (cavity-fighting) ingredients, such as fluoride; these can help prevent tooth decay and cavity formation by strengthening tooth enamel. Others contain antibacterial ingredients; these can help control the harmful oral bacteria found in plaque — the sticky film that can build up on your teeth in between cleanings. Some antibacterial mouthrinses are available over-the-counter, while others are prescription-only. When used along with brushing and flossing, they can reduce gum disease (gingivitis) and promote good oral health.
So why did Taylor rinse? His coach Rex Ryan later explained that he was cleaning out his mouth after a hard hit, which may have caused some bleeding. Ryan also noted, "He [Taylor] does have the best smelling breath in the league for any quarterback." The coach didn't explain how he knows that — but never mind. The takeaway is that a cosmetic rinse may be OK for a quick fix — but when it comes to good oral hygiene, using a therapeutic mouthrinse as a part of your daily routine (along with flossing and brushing) can really step up your game.
If you would like more information about mouthrinses and oral hygiene, contact us or schedule a consultation.