Posts for: October, 2017
By Designing Smiles By Dr. Diaz
October 16, 2017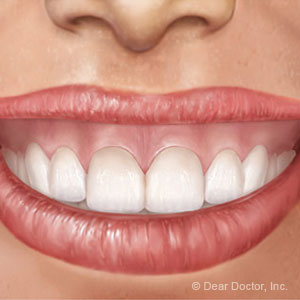 What makes a beautiful smile? The teeth, of course: bright, evenly shaped and precisely aligned with each other. But your teeth can be as perfect as can be and your smile will still appear unattractive.
The reason? Your gums show more than they should when you smile.
What's considered a gummy smile is largely a matter of perception that can vary from person to person. As a rule of thumb, though, we consider a smile "gummy" if four millimeters (mm) or more of the gums show.
Fortunately, we can minimize the gums' prominence and make your smile more attractive. But what methods we use will depend on why your gums stand out. And it's not always because of the gums themselves.
It could be your teeth didn't erupt normally during dental development. Mature crown (the visible part of the tooth) length is normally about 10 mm with a width about 75-85% of that. But an abnormal eruption could result in teeth that appear too short, which can make the gums stand out more. We can correct this with a surgical procedure called crown lengthening in which we remove excess gum tissue and, if necessary, reshape the underlying bone to expose more of the tooth crown.
Another potential cause is how far your upper lip rises when you smile. Normally the lip rises only enough to reveal about 4 mm of teeth. In some cases, though, it may rise too high and show more of the gums. We can modify lip movement in a number of ways, including Botox injections to temporarily paralyze the lip. A more permanent solution is a lip stabilization procedure. It sounds bad, but it's a fairly simple procedure to surgically reposition the muscle attachments to restrict movement.
Your gummy smile may also result from an upper jaw too long for your facial structure. We can correct this with orthognathic ("ortho" – straighten, "gnathos" – jaw) surgery. During the procedure the surgeon permanently positions the jaw further up in the skull; this will reduce the amount of teeth and gums displayed when you smile.
Discovering the true cause of your gummy smile will determine how we treat it. After a complete oral examination, we can then discuss your options to transform your smile into a more attractive one.
If you would like more information on treating gummy smiles and other cosmetic problems, please contact us or schedule an appointment for a consultation. You can also learn more about this topic by reading the Dear Doctor magazine article "Gummy Smiles."
By Designing Smiles By Dr. Diaz
October 08, 2017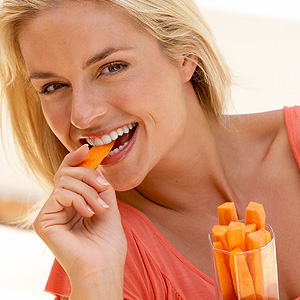 Your diet can play as important a role in your dental health as brushing and flossing. What you eat (particularly sugar) could increase your risk of tooth decay despite your hygiene habits. And vice-versa: a nutritious diet may help boost your preventive efforts even more.
Let's look at two very different approaches to diet and see how your dental health is likely to fare under each.
A High Sugar/Low Fiber Diet. Modern western diets heavy with processed foods are inundated with two particular types of refined sugars. The first is sucrose, which comes mainly from either beets or sugar cane. Foods (and beverages) may also contain a refined sugar from corn known as high fructose corn syrup. Refined sugars are added for taste to thousands of products like cake, candy, soft drinks or even condiments like catsup. These "free" sugars are easily processed by bacteria into acid. Combine that with fewer fibrous vegetables in the diet and you have a recipe not only for obesity and other health issues, but tooth decay as well.
A High Fiber/Low Sugar Diet. Fruits and vegetables make up a large part of this kind of diet, while added free sugars much less so. That doesn't make this diet sugar-free: all plant products contain simple sugars produced by photosynthesis. The difference, though, is that these sugars — glucose, fructose and sucrose (natural, not the refined versions) — are more slowly absorbed into the bloodstream during digestion because of the fiber content of fruits and vegetables. You'll also receive other nutrients like vitamins and minerals necessary for good health. Eating this kind of diet will help decrease the risk of tooth decay.
So there you have it: eat more fresh fruits and vegetables and restrict your intake of processed foods and sweets. You may also want to fine-tune a few items to maximize decay prevention: for example, eat starches in their natural form (whole grains, beans or certain fruits) as much as possible rather than refined or in combination with added sugar (cakes, cookies, etc.). And while fresh fruits with their naturally occurring sugars aren't a significant factor in tooth decay, dried fruits (especially with added sugar) might.
Bon appétit!
If you would like more information on proper diets for better oral health, please contact us or schedule an appointment for a consultation. You can also learn more about this topic by reading the Dear Doctor magazine article "Nutrition & Oral Health."