Posts for: June, 2019
By Designing Smiles By Dr. Diaz
June 19, 2019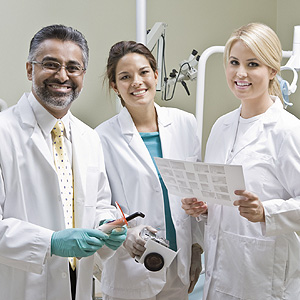 Dental implants are among the most popular tooth replacements with their high success rate, durability and life-like beauty. But obtaining them is a process that requires commitment, planning, and coordination — it takes a team.
Your general dentist is often the first team member you'll encounter: because they're most familiar with your mouth's condition the implant discussion naturally begins here. They can help you determine if you're a good candidate for implants, such as if you have sufficient bone mass at the intended site or if you have dental disease that must be treated first. They'll also continue monitoring your general dental health throughout the process.
Your general dentist may also have the special training for surgically placing implants. If not, he or she may refer you to your next team member: an oral surgeon or periodontist skilled in implantation procedures. This step first requires careful planning, including developing a surgical guide for precise placement of the implant. These specialists may also contribute to other aspects of the implant process such as tooth extraction or bone grafting.
A few weeks after surgery bone will have grown and adhered to the implant to form a solid bond. It's time for you to go back to your dentist who will work in conjunction with another member of your team, a dental lab technician. Together, your dentist and laboratory technician will guide the development, manufacture and placement of the implant's life-like porcelain crown. The technician will take their specifications from the surgeon and your general dentist and, with his or her skill and artistry, form a crown that will blend well in color and shape with the rest of your teeth.
We also can't forget another important team member: you. Without your input, especially in the early planning stages, your expectations for a more attractive smile might not be met. The rest of your implant team depends on you communicating your desires and wishes to balance with the technical requirements they must achieve.
The process for dental implants can take months. But with the coordinated efforts of your implant team you'll be able to enjoy results — renewed function and a more attractive smile — that could last for decades.
If you would like more information on dental implants, please contact us or schedule an appointment for a consultation. You can also learn more about this topic by reading the Dear Doctor magazine article "Dental Implants."
By Designing Smiles By Dr. Diaz
June 09, 2019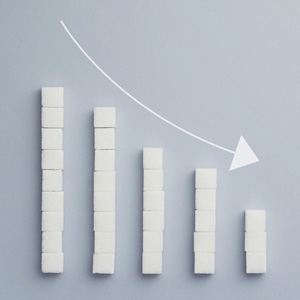 Tooth decay doesn't appear out of nowhere. It begins with bacteria, which produce acid that softens and erodes tooth enamel. Without adequate enamel protection, cavities can develop.
So, one of our prevention goals is to decrease populations of disease-causing bacteria. One way is to deprive them of carbohydrates, a prime food source, most notably refined sugar. That's why for decades dentists have instructed patients to limit their intake of sugar, especially between meal snacks.
Ironically, we're now consuming more rather than less sugar from a generation ago. The higher consumption impacts more than dental health — it's believed to be a contributing factor in many health problems, especially in children. Thirty years ago it was nearly impossible to find a child in the U.S. with type 2 diabetes: today, there are over 50,000 documented juvenile cases.
Cutting back isn't easy. For one thing, we're hard-wired for sweet-tasting foods. Our ancestors trusted such foods when there was limited food safety knowledge. Most of us today still have our "sweet tooth."
There's also another factor: the processed food industry. When food researchers concluded fats were a health hazard the government changed dietary guidelines. Food processors faced a problem because they used fats as a flavor enhancer. To restore flavor they began adding small amounts of sugar to foods like lunch meat, bread, tomato sauce and peanut butter. Today, three-quarters of the 600,000 available processed food items contain some form of added sugar.
Although difficult given your available supermarket choices, limiting your sugar intake to the recommended 6 teaspoons a day will reduce your risk for dental and some general diseases. There are things you can do: replace processed foods with more fresh fruits and vegetables; read food labels for sugar content to make better purchasing decisions; drink water for hydration rather than soda (which can contain two-thirds of your daily recommended sugar allowance), sports drinks or juices; and exercise regularly.
Keeping your sugar consumption under control will help you reduce the risk of tooth decay. You'll be helping your overall health too.
If you would like more information on the effect of sugar on health, please contact us or schedule an appointment for a consultation. You can also learn more about this topic by reading the Dear Doctor magazine article "The Bitter Truth about Sugar."