Posts for: June, 2021
By Designing Smiles By Dr. Diaz
June 11, 2021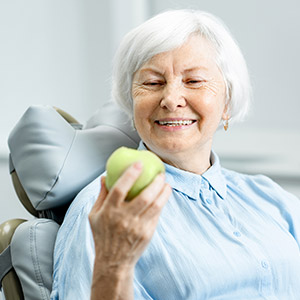 Around one in ten U.S. adults have diabetes, a metabolic disease that can disrupt other aspects of a person's health like wound healing and vision. It could also cause complications with dental implants, the premier replacement choice for missing teeth.
There are two basic types of diabetes. In type 1 diabetes, the pancreas stops producing insulin, a hormone needed to regulate the amount of sugar glucose in the bloodstream. With the more prevalent type 2 diabetes, the body either doesn't produce enough insulin or doesn't respond efficiently to the insulin produced.
Uncontrolled diabetes can contribute to several dangerous health conditions. In addition to vision impairment and poor wound healing, diabetics are at higher risk for other problems like kidney disease or nerve damage. Drastic swings in blood glucose levels can also cause coma or death.
Many diabetics, though, are able to manage their condition through diet, exercise, medications and regular medical care. Even so, they may still encounter problems with wound healing, which could complicate getting a dental implant.
An implant is composed of a titanium metal post imbedded into the jawbone. Because of its affinity with titanium, bone cells naturally grow and adhere to the implant's metal surface. Several weeks after implant surgery, enough bone growth occurs to fully secure the implant within the jaw.
But this integration process may be slower for diabetics because of sluggish wound healing. It's possible for integration to not fully occur in diabetic patients after implant surgery, increasing the risk of eventually losing the implant.
Fortunately, though, evidence indicates this not to be as great a concern as once thought. A number of recent group studies comparing diabetic and non-diabetic implant patients found little difference in outcomes—both groups had similar success rates (more than 95 percent).
The only exception, though, were diabetic patients with poor glucose control, who had much slower bone integration that posed a threat to a successful implant outcome. If you're in this situation, it's better if you're first able to better control your blood glucose levels before you undergo surgery.
So, while diabetes is something to factor into your implant decision, your chances remain good for a successful outcome. Just be sure you're doing everything you can to effectively manage your diabetes.
If you would like more information on diabetes and dental health, please contact us or schedule an appointment for a consultation. You can also learn more about this topic by reading the Dear Doctor magazine article "Dental Implants & Diabetes."
By Designing Smiles By Dr. Diaz
June 01, 2021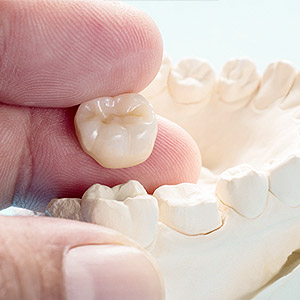 Millions of Americans rely on dental insurance to help them better afford dental care. Depending on the benefit package, an insurance policy can be useful in restoring dental health compromised by disease or injury.
But how life-like that restoration may appear is often a secondary concern with many insurance plans. For example, dental insurance will pay for a crown restoration that restores function to a tooth, but not necessarily of the highest aesthetic quality for achieving a truly life-like appearance.
To be sure, not all dental crowns are the same. Some are all metal, usually gold or silver. Some are "hybrids," made of an interior metal shell with an outer fused porcelain shell (porcelain-fused-to-metal or PFM). In recent years all -ceramic crowns made of stronger life-like ceramics have become the most popular.
The type of crown used will depend a great deal on the type and location of the tooth. Teeth on the back of the jaw that encounter greater biting forces and are not as noticeable in the smile may do better with a metal or PFM crown. Visible side and front teeth are more likely candidates for all-ceramic. Your dentist will give you your best options as it pertains to your dental needs and appearance.
There's also a difference in crown workmanship. Dental laboratories now use milling machinery that sculpts a crown from a single block of material. Although some final handwork by skilled technicians is still necessary, milling has streamlined the process—and the cost—for producing a crown of high functioning quality.
But crowns that achieve the most natural smile appearance require more in the way of artistic craftsmanship. This in turn can increase the crown's price—beyond what many dental policies agree to cover. You may then be faced with a decision: an insurance-covered functional crown with an acceptable level of life-likeness or a more life-like crown for which you may have to pay more out-of-pocket.
Your dentist can advise you on your best options for a crown restoration, also factoring in what your insurance will cover. Ultimately, though, you'll have to weigh the kind of smile you desire with your dental situation and finances.
If you would like more information on dental crown restorations, please contact us or schedule an appointment for a consultation. You can also learn more about this topic by reading the Dear Doctor magazine article "Porcelain Dental Crowns."